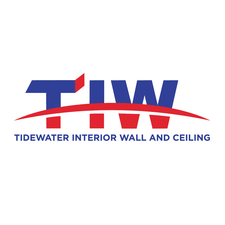 Tidewater Interior Wall and Ceiling, Inc. ("TIW")
Started in late 1997 by Rob LeBlond, TIW, a Class-A Contractor, serviced its first drywall and plaster customers in 1998.  Earlier that same year, Michelle Hotte, formerly a CPA in public accounting, joined the company as his partner.
In 2017, TIW's General Manager, Chris Pouch, was brought aboard, enhancing the Company's Leadership Team and breadth of knowledge.  TIW's Assistant General Manager, Tommy Edwards, and Custom Home Production Manager, Lloyd Maynard, each have more than 20 years of experience with our Team and together bring over a 75 years of direct industry experience to our customers!
Highlights
Class-A residential and commercial contractor for new construction.
Provide high-quality, fast-paced drywall and plastering installation to builders and general contractors. Types of projects include: single-family, custom, and high-end residential homes, apartments, condominiums, mid-rise buildings, and commercial work (consisting of metal stud/insulation/Acoustical Ceiling Tile)
Base territories include: Tidewater, Richmond, and Northeastern NC.  We also service other areas on a project-by-project basis