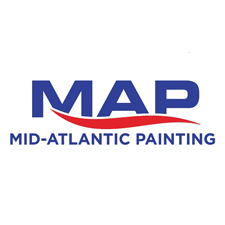 Mid-Atlantic Painting, Inc. ("MAP")
MAP, a Class-A contractor, joined the TIW-Group in 2002.
In 2017, Tim Russell, formerly with Duron Paints and the Sherwin Williams Company, joined MAP to become its' General Manager.  His leadership and knowledge base were game-changers for the painting arm of our Group.
Mid-Atlantic Painting's field crews are led by very experienced, long-tenured, Senior Paint Supervisors.  Among them are:  Maria Galindo, James Mosebach, and Jose Galindo.   Their knowledge and work ethic directly impact the shaping and advancement of our painting business.  They have been instrumental in making MAP into the enormous success it is today.
MAP's technicians paint newly constructed single-family residential homes, custom homes, apartments, condominiums, mid-rise buildings, and commercial projects.
Highlights
A Class-A Residential and Commercial contractor for new construction.
Provide high-quality, fast-paced interior and exterior painting services to builders and general contractors. Types of projects include: single-family and custom homes, apartments, condominiums, mid-rise buildings, and commercial work. MAP does not perform industrial painting.
Base territories include Tidewater, Richmond, and Northeastern NC. MAP also will contract to work in other areas on a project-by-project basis
Jayme Montague joined TIW Group as our Controller in 2002, and is a member of our Executive Committee.  She manages the Administrative, Accounting, and Customer Service Departments for both TIW and MAP.